Coming Soon!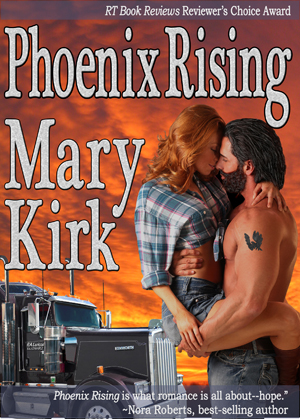 Trucker Peter "Phoenix" Lericos has dusted off the ashes of his former life and left it far behind.  Burned by his wife's betrayal, scorned by people he thought were friends, he spent three long years in prison for a crime he didn't commit.  Only one thing matters to him anymore:  his freedom.  And that's what his big rig and the open road give him.
They also saddle him with Margaret Ann Miller.
It's a hot night in July when the spirited little redhead climbs into his truck in a daring bid to evade the police.  With her son in jeopardy and the law on her tail, she's sneaky, suspicious, and desperate.  But Peter's intuition tells him that she's the victim, not the villain, of the piece.  He knows that sheltering her in his rig—and in his arms—puts both is precious liberty and his heart at risk.  Yet he can't rein in the rising hope that, together, Margaret Ann and he might find the justice—and the love—they both need and deserve.
Awards . . .
RT Book Reviews Reviewer's Choice Award
Reviews and Accolades . . .
 "Phoenix Rising is what romance is all about—hope."

~ Nora Roberts, award-winning, best-selling author

"This has got to be the best book I've read in a long time.  These two people are made for each other.  I couldn't put it down after just the first few pages. . . . Not to be missed by anyone who loves a romance and a very good story."


~ Rendevous Magazine

"Super star authors, move over!  Here comes Mary Kirk to take her place in the ranks.  Readers will revel in the richness and subtlety with which Ms. Kirk unfolds her intriguing plot."

~ Melinda Helfer, RT Book Reviews
~ ~ ~ ~ ~
Dear Reader,
I developed a passion for tractor trailers when I was seventeen, working at a marine terminal where upwards of four hundred big rigs a day were weighed and processed.  The idea of hitting the road in something that immense and powerful took hold of my imagination and wouldn't let go.  The men who drove those monsters seemed as if they'd come straight out of one of my dad's Zane Grey novels:  cowboys, quintessential alpha males.  The image was reinforced by two movies released in the late seventies—Convoy starring the wickedly sexy Kris Kristofferson, and Smokey and the Bandit, featuring the dynamic duo of Bert Reynolds and Sally Field.
Now cult classics, Convoy and Bandit fed my trucker fantasies for years.  Happily, one of those fantasies crystallized into my second book, Painted Lady, which, in addition to being a romance, is a sort of tribute to trucker culture, including its CB "slanguage," illuminated with such campy, over-the-top delight in Convoy and Bandit.
Then, not long after Painted Lady was released (as Long Road Home by Jean Faure), a serendipitous encounter with a particular big rig sparked a new story that I simply had to tell.
It was one o'clock on a sunny afternoon in August, and I was sitting at a picnic table in the Glacier Hills rest stop on the Ohio State Turnpike, eastbound.  My husband Keith was playing with our boys, working off pent-up energy from having been stuck in our minivan all day.  I was about to tell them it was time to hit the road again when I looked across the parking lot—and stopped dead in my tracks.
Dumbstruck, I stared at the grape-purple conventional Kenworth Aerodyne VIT tractor trailer rumbling down the ramp from the highway.  It was enormous, with its high vista windows stretched across its extra-long sleeper and its gorgeous purple paint, all shiny-new, and its chrome flashing in the sunshine.  Standing there, husband and sons forgotten, I wanted nothing more than to walk across the lot, introduce myself to the trucker who jumped down from the cab, and somehow finagle my way into that truck.  But I just didn't have nerve.  A minor regret that I recall occasionally with a wistful sigh.  I'd have given a lot for a ride in that truck.
In truth, a trucker's life is hard and gritty and anything but glamorous.  But the fantasy of taking to the open road in a big rig with a strong and sexy male . . . well, that's the stuff that romances are made of.  Although I missed my ride in that monster Kenworth, I drove the rest of the way home (my guys all peacefully asleep) with my thoughts moving faster than the car.  By the time I pulled into our driveway that night, Phoenix Rising was plotted, beginning to end, and the characters were living and breathing inside my head.
It's a rare gift, that lightning bolt from the Great Muse in the Sky that strikes a writer so forcefully, she sees an entire story, fully formed, laid out before her.  The humble writer learns early on to be grateful for such a gift.  She can only hope that her words will do it justice.
Best wishes,
Mary Kirk